Welcome to my updated summer E-newsletter. This E-newsletter will inform you about what I'm doing in Parliament and in the constituency. I hope you enjoy reading it. If you have any suggestions about how the next E-newsletter could be improved or anything you would like to see included please email me at david.davies.mp@parliament.uk . 
Within this edition:
The NHS in Wales

The Welsh language

The life of Christians at home and abroad

Update on Severn bridges

EU election report

Where to go for a great curry

Your chance to visit Parliament
WELSH PATIENTS LET DOWN 
Welsh patients continue to receive a second rate service as a result of the policies of the Welsh Government. In recent weeks, I have been contacted by two women in separate parts of Monmouthshire who discovered lumps in their breast. They were both told to expect to wait up to two months to see a consultant. One, who wished to remain anonymous, has spoken out about her experiences here after being forced to pay for private treatment.
It is sad that instead of addressing the problem Welsh Government ministers choose to criticise me for commenting on their failure to put patients first. In England these patients would have been seen within two weeks.

David visits Charles Christmas at his home in Abergavenny
85 year-old Charles Christmas, a veteran of the Korean War, is another victim of sub-standard care. Due to a badly infected wisdom tooth Mr Christmas, who lives in Abergavenny, is in constant pain and cannot get a proper night's sleep. He has been he will need to be operated on in hospital, but faces a wait of nine months for NHS treatment. In desperation, Mr Christmas paid  for a private consultation where he was shocked to discover the cost of extracting the tooth could be almost £2,000. I have taken up Mr Christmas' case with Aneurin Bevan Health Board and I am trying to find out if any of the various armed forces charities can offer financial assistance. 

David with Ann Wilkinson
Usk resident and cancer sufferer Ann Wilkinson, aged 76, has been denied access to a life-prolonging drug because she lives in Wales. Unlike the UK Government, which has created a Cancer Drugs Fund in England, the Welsh Government has refused to implement a similar fund in Wales. Mrs Wilkinson requires a new drug called Avastin that slows the spread of cancer and can prolong the lives of patients by many years. The drug is available in England yet a postcode lottery means funding decisions in Wales lie with individual health boards. In this case, Aneurin Bevan Health Board has refused to approve funding for Mrs Wilkinson to be treated with Avastin. If you agree with me that Welsh patients should have the same access to life prolonging drugs as English patients have, please do sign the petition set up by Ann's close friend and fellow Usk Resident, Julie McGowan, here.
In my opinion, patients living in Wales should have the right to exactly the same level of care offered in England and if it cannot be delivered here they should be able to go to England to get it. If you agree there is an online petition here and I would welcome your support.
THE WELSH LANGUAGE AND THE EISTEDDFOD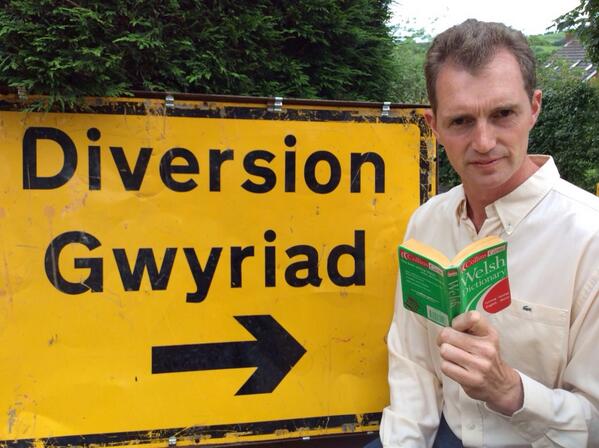 I was delighted to hear that the National Eisteddfod will be coming to Abergavenny in 2016. As a Welsh speaker, I am looking forward to attending what I am sure will be a fantastic event, giving Abergavenny and the host county of Monmouthshire the chance to shine.
However I was less happy to learn that the Welsh Government will shortly be forcing local authorities to make Welsh the first language on all road signs. This is an issue which should be left to the council who know their local communities best and ensures that local people are put in charge. Welsh needs to be supported by speakers and non-speakers alike, but bullying Councils to promote it in areas like Monmouthshire will undermine the support which the language needs to flourish. You can read more on my views here.
CHRISTIAN PERSECUTION 

The girls kidnapped by the Nigerian Islamic Extremist Group Boko Haram 
Christian communities are currently suffering horrendous levels of persecution. Very little seems to be said about it but in many parts of Africa - especially Nigeria, and throughout much of the Middle East - Christians are being violently murdered. I have been writing regularly to the Foreign Secretary on the issue and I have also signed a number of Parliamentary motions condemning the oppression of Christians worldwide. I believe countries in receipt of British aid money should be expected to ensure the safety of those who wish to follow Christianity.
Closer to home it is worrying that the taxpayer funded Equality and Human Rights Commission is threatening to prosecute a bakery run by a Christian who politely declined to bake a cake containing a gay rights slogan. You can read more about this story here. Discrimination against homosexuals is wrong but so is using taxpayers' money to harass members of the public who do not share the views of some gay rights activists. I have tabled a Parliamentary motion on the issue hereand intend to raise the matter in Parliament with the Equalities Minister.
DAVID SPEAKS OUT ON THE SEVERN BRIDGES 

David by the Severn Crossings
In my last E-newsletter I reported back on a meeting I held with the Transport Minister on the Severn bridges. He confirmed to me that when the Severn Crossings revert to public ownership (expected in 2018) VAT would not be legally payable, making it possible to reduce tolls. 
During the Welsh Grand Commitee on Wednesday 16th July I again raised the issue and asked the Government to set out their long term proposals for the management of the bridge. I reminded MPs that the Welsh Affairs Committee, Which I chair, has calculated that tolls set at around one third of current levels would be enough to cover the maintenance costs of the bridges. I was told that the Government would "look into it". I have now written to the new Welsh Secretary of State, Stephen Crabb MP, to appear before the Welsh Affairs Committee as soon as possible after the summer recess to discuss the matter further. 
THE EU ELECTIONS 

Campaigning with the former Secretary of State for Wales with MEP candidate Dan Boucher and others at the new Monmouthshire livestock market in Bryngwyn
I was obviously pleased that the Conservative Party topped the poll in Monmouthshire at May's European elections. However, I also recognise that UKIP were not far behind in second place, and well ahead of all the other parties.
I fully recognise the concerns of all those who voted UKIP and I am aware there is a growing view that the coalition government is not doing enough to tackle immigration and stem EU interference in British law. It is vital that immigration is properly controlled and laws are made in London not in Brussels or Strasbourg. Furthermore, I fully support a referendum on Britain's continued membership of the EU in 2017.
COME TO THE MUGHAL SPICE FOR A GREAT CURRY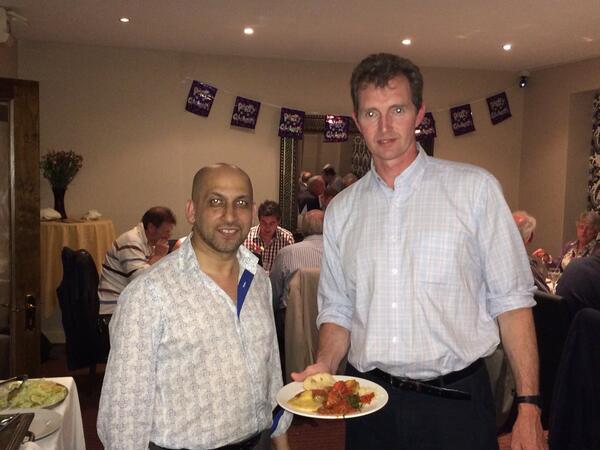 David with the owner of The Mughal Spice, Helal Khan. 
Monmouth Conservative Association recently held a fantastic curry night at the Mughal Spice in Chepstow. Under the watchful eye of our genial host Helal Khan we sampled a range of curries, from mild kormas to a fiery madras. The service and quality was great and I am sure many of us will be going back soon. If you're looking for a tasty curry, look no further than this local restaurant. More information can be found here. 
SUMMER VISIT TO PARLIAMENT 
I enjoy welcoming visitors to Parliament and I am able to arrange guided tours of the Palace of Westminster for constituents. If you live in the Monmouth constituency and would like to be given a tour of Parliament, climb Big Ben or do both, please contact my Parliamentary office on 0207 219 3391 or email david.davies.mp@parliament.uk .